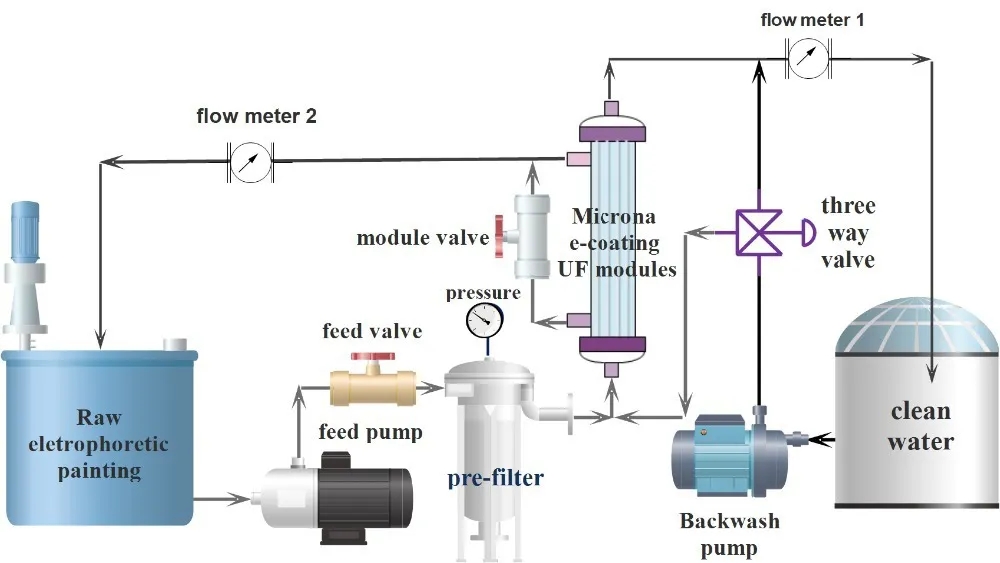 Hongtek MP Series High Flow Pleated Cartridges and BF Series High Flow Pleated Bag Filters are good choice to be installed in the Electrophoretic Paint Filter, mainly remove silicon oil and other oily impurities in the electrophoretic paint to reduce or even avoid the formation of shrinkage cavity. The most commonly material used are PP membrane media, 10 micron rating.
Following shows the way to operate the electrophoretic paint filter:
1. Choose a suitable pump according to the flow. Then, fit it to the inlet of the filter.
2. Connect the inlet and outlet of the housing with the pipeline of the filtration system respectively, and ensure the liquid flow pattern.
3. Install the pleated high flow filter cartridges (usually 10µm) in the Electrophoretic Paint Filter, check the integrity of O-ring and tighten the circular bolts of the cartridge cover. Then, the electrophoretic paint filter could be put into work.
4. Put the high flow cartridges in the upright position and impact its gland.
5. Install the upper cover and check whether the O-ring in place to make sure its leakproofness.
6. Close the exhaust valve on the top of the housing.
7. If the filter pressure difference is 1-2 bar, then it would be necessary to change the cartridges. While changing, open the exhaust valve to discharge the pressure in the filter, and avoid opening the top of filter under pressure.
Generally speaking, the electrophoretic paint filter bag should be replaced every month. Frequent clogging may be caused by the following reasons:
1. Large particles still left after pre-filtration.
2. The high flow cartridge filters are broken during pre-filtration, thus the impurities are slide into the following section, resulting in the higher filtration pressure.
3. The growth of bacteria in the electrophoresis tank will also lead to frequent replacement of pleated cartridge filters.