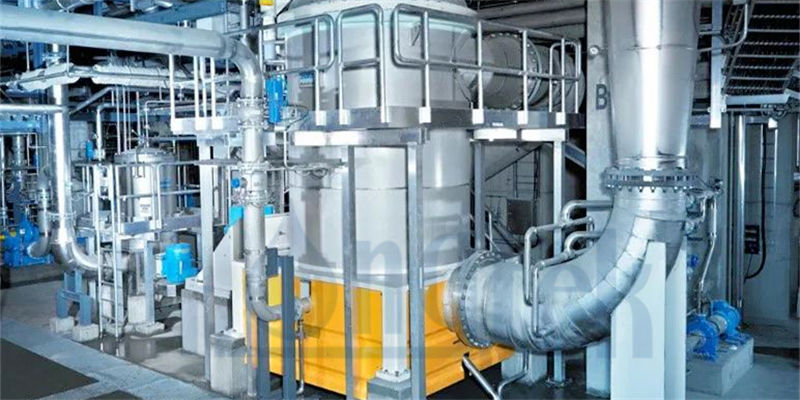 Filtration is one of the indispensable key processes in the pulp and paper production process. It plays an important role in improving the cleanliness of hydraulic pressure, lubrication systems, chemicals, circulating water, and boiler feed water. The filtration system mainly includes bleach chemical preparation filtration system, coating filtration system and hydraulic and lubrication oil filtration system, etc.
1. Bleach Chemical Preparation Filtration
Since the pollutants in the bleaching chemicals react with the strong oxidizing compound CLO2 and reduce the bleaching efficiency of the bleaching chemicals, a bleaching chemical filtration system is required to remove the pollutants in the chemicals, thereby improving the bleaching efficiency of the bleaching preparation and the pulp cleanliness. The filtration system is generally composed of FRP High Flow Filter Housings and High Flow PP Pleated Cartridges.
2. Coating Filtration
The paper coating filter system is mainly to remove the particulate impurities in the coating and improve the purity and color of the coating. The equipment of the filtration system generally uses SUS304 Bag Filter Housings and the filtration consumables use Liquid PP Filter Bags or High Flow Pleated Bag Filters specially designed to replace filter bags.

3. Hydraulic & lubrication Oil Filtration
The small particles, gels and colloids in hydraulic and lubricating oil will cause loss due to friction with seals, bearings and breaks, and will also accumulate contaminants on the bearings and servo valves of hydraulic and lubrication systems, causing system failure. Therefore, it is necessary to install a hydraulic & lubricating oil filter system for filtering treatment.
Because pulping and papermaking processes will differ according to the purpose of the paper, when designing and installing a filtration system in a pulp and paper mill, it is necessary to provide a suitable solution according to the requirements of the on-site production process.